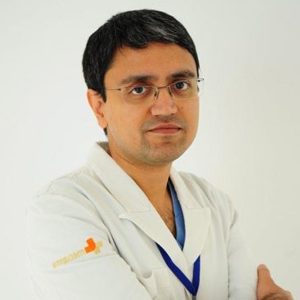 Dr. Vikas Singhal
Advanced Laparoscopic, Robotic, Bariatric, Hernia, Gallbladder, GI Surgeon
After graduating from Maulana Azad Medical College, Dr. Vikas Singhal, the Obesity Specialist Doctor, went to pursue further training in the U.K. He completed initial training in surgery from Birmingham, Coventry, and Leeds. After this, he moved to America for higher training. He completed a five-year Surgical Residency from the Guthrie Clinic, Pennsylvania. After this, he pursued a Fellowship in Advanced Laparoscopic and Weight Loss Bariatric Surgery from Case Medical Center, Cleveland, USA. He believes in honest and ethical patient care. He practices Evidence-Based Medicine (EBM).
Are You Wondering?
Who is a bariatric surgeon? Why does anyone need bariatric surgery?
While some general surgeons can perform bariatric surgery, some surgeons specialize in weight-loss surgeries. Looking for a bariatric surgeon in Delhi NCR then your wait is over -contact Dr. Vikas is one of the best weight loss surgeons in Gurgaon. It is always a good idea to find a surgeon who has experience in performing all the types of bariatric surgery as it is a complicated surgery and requires specialization.
So before talking about bariatric surgery lets first understand who is a bariatric surgeon? In medical terms he is someone who has a clear understanding of the root cause of obesity. A Bariatric surgeon estimates the related health issues, before conducting a surgery he performs a series of diagnostic tests. Also he is the one who will explain the benefits and risks involved in treatment, and provides information about procedures through medications and therapies. The main goal is to provide long-term beneficial treatment by following standard treatment and surgical procedures that eliminate the root cause of the overweight disorder.
Schedule a consultation with Dr. Vikas to begin the process with one of the top bariatric surgeon in Gurgaon
Read More
Why does anyone need bariatric surgery?
When we think about losing weight it is not the easiest job to do. Even people who have tried to lose weight are likely to know how demanding it is. This surgery is generally required by people with obesity-related health problems who have failed to lose weight despite efforts. Doctors suggests that opting for weight loss/ Bariatric surgery is the most effectual aterantives that leads to sustainable weight loss in highly obese patients.
Weight loss surgery is for people who are not only looking to lose weight but also reduce obesity-related conditions.
Bariatric surgery might be an option for you if:
Your body mass index is 40 or more or you have a serious weight-related health issues it could be anything
Bariatric surgery is not for everyone who has a high BMI or is overweight. Before opting for any weight loss surgery/ treatment the patient has to match certain medical guidelines before getting the eligibility for the surgery.
Choosing a surgeon can be complicated by choosing a life partner, but if you book your bariatric surgery with Medanta Hospital, you will have access to the highest quality doctors in the country as it is one of the best bariatric surgery hospitals in Gurgaon.
Book your appointment now with us to get the best bariatric surgery in Delhi
MISSION
Weight loss is a very common term used. Managing weight loss by exercises, diet routines, small changes in our regular habits is popularly followed and is quite successful for a healthy well being. Where as, some people tend to gain weight and cannot keep away from being obese despite the sincere efforts made by them. They lose control over eating as well. In such cases, even diet or physical workouts will not work. Achieving a long term weight loss can be difficult because of its associated factors. Genes, certain medications, stress, lifestyle choices are a few known causes of obesity. The best bariatric surgery in Delhi or elsewhere can be a way to avoid the health issues obesity carries with it. The health problems relating to being overweight are heart complications, Type 2 diabetes, high blood pressure, high cholesterol, arthritis and many more. Weight loss will be the primary aspect considered while addressing the above health complications.
Hormones within our digestive system are known to regulate eating and appetite. These biochemicals or hormones when mismanaged within, appetite increases, and the urge to eat also increases. The bariatric surgeon will either reduce the amount of food intake or limit the absorption of nutrients by altering the gut that helps in achieving loss of weight.
Dr. Vikas Singhal, One of the specialists in bariatric surgery, aims in providing the best of the Gastrointestinal treatment related to hernia, appendix, gallbladder and bariatric concerns. He believes in endeavouring right solutions to his patients with proper care and empathy.
VISION
Bariatric; the term itself means treatment pertaining to weight. Reason of being overweight is mainly due to uncontrolled eating and persistent hunger. Hunger is typically caused due to hormonal changes in the stomach. Thus, modifying the conditions i.e altering the hormones in an overweight person by treating medically becomes necessary. This is done by the bariatric surgeon who primarily understands the actual reason for obesity, assesses associated health problems, performs a series of diagnostic tests, explains the benefits and risks involved in the treatment and provides a treatment through medications, surgery and therapy. Providing a treatment that is beneficial in the long run by following standard procedures of treatment and surgery that eliminates the root cause of overweight disorder is the primary goal. Medical treatment for weight loss can take care of various comorbidities such as blood sugar level, cardiovascular risk factors, controlled blood pressure, cholesterol, rhythmic breathing, and even psychosocial issues relating to obesity.
Dr Vikas Singhal, with his exceptional knowledge and boundless experience in laparoscopic bariatric surgery, serves his patients in all the aspects of gastrointestinal issues. His main objective is to medically treat the stomach condition and is committed to relieve them of obesity related concerns that would benefit a better well being.
Our Services
Helping you lead a healthy life with our surgical treatments and utmost care
Surgery On DaVinci Robot Console
Dr Singhal is certified in robotic surgery from Intuitive India having completed DaVinci Si console training and certification. Robotic surgery carries benefits of improved visualization and endo wrist instruments fine movements. He offers robotic surgery for bariatric, hernia, gallbladder, Fundoplication etc surgery procedures as appropriate for the patient.
Make an Appointment
Send your request and let one of our experts consult you regarding it.
"I am 34 years old, but my body weight was much higher for my age. I was not able to loose weight despite exercise and workout. I took suggestions from Dr. Vikas Singhal and decided that I need to undergo Bariatric Surgery. I stayed in the hospital for only 2 days and on the 5th day, I was back in Nepal. MedantaMedicity, Gurgaon hospital is very good and the doctors and staff are very friendly. They made me feel at home. I have lost 20 Kgs in just 2 months. I am very happy with this surgery — it has changed my life."
✱ Results may vary person to person.
Awesome Experience with Dr Vikas. First of all he is a TRUE gentleman!!!! His advices, diagnosis, surgical and inpatient services are incredible. Had GI Bariatric Surgery by Dr Vikas and To be honest I didn't feel any pain post moving to my room after surgery. Helped with steps by step recovery procedure, swirly orchestrated all actions required post discharge. May God bless him and his team (Mr Vipin - Thank you 😊 as well) and looking forward to continue my recovery under Dr Vikas' care.
✱ Results may vary person to person.
LIFE IS NOT MERELY BEING ALIVE BUT BEING WELL.
Latest Videos
Watch our videos